Back in July, the Centers for Disease Control and Prevention (CDC) and the US Department of Health and Human Services (HHS) announced that they were "getting their hands dirty" by tracking COVID-19 data from an unexpected source: wastewater.
The goal of the newly formed National Wastewater Surveillance System (NWSS) is to work with states and local entities to collect COVID-19 data from wastewater testing and provide: 
An efficient pooled community sample.

Data for communities where timely COVID-19 clinical testing is underutilized or unavailable.

Data at the sub-county level.
Why Test Wastewater?
Lawrence Goodridge, a microbiologist who teaches at the University of Guelph, says "wastewater surveillance works because many infectious agents are excreted in bodily fluids, before and during active infection."
It also allows local health officials to gather data without relying on people knowing that they're sick and seeking medical help. To address a virus like COVID-19, which is often asymptomatic, Goodridge says "we need active surveillance systems that don't rely on the actions of sick people."
Wastewater surveillance first emerged back in the '60s when researchers at Yale University conducted several experiments to assess the effectiveness of polio vaccination. They tested sewage in Middletown, CT for various strains of the polio virus before, during, and after the vaccination program.
Wastewater Warnings
Monitoring wastewater also helps identify potential viral outbreaks before anyone visits a medical facility with symptoms. In 2013, researchers in Sweden reported that wastewater surveillance provided warnings of outbreaks of norovirus and hepatitis A virus, two causes of foodborne viral disease, two to three weeks before identifying any sick people.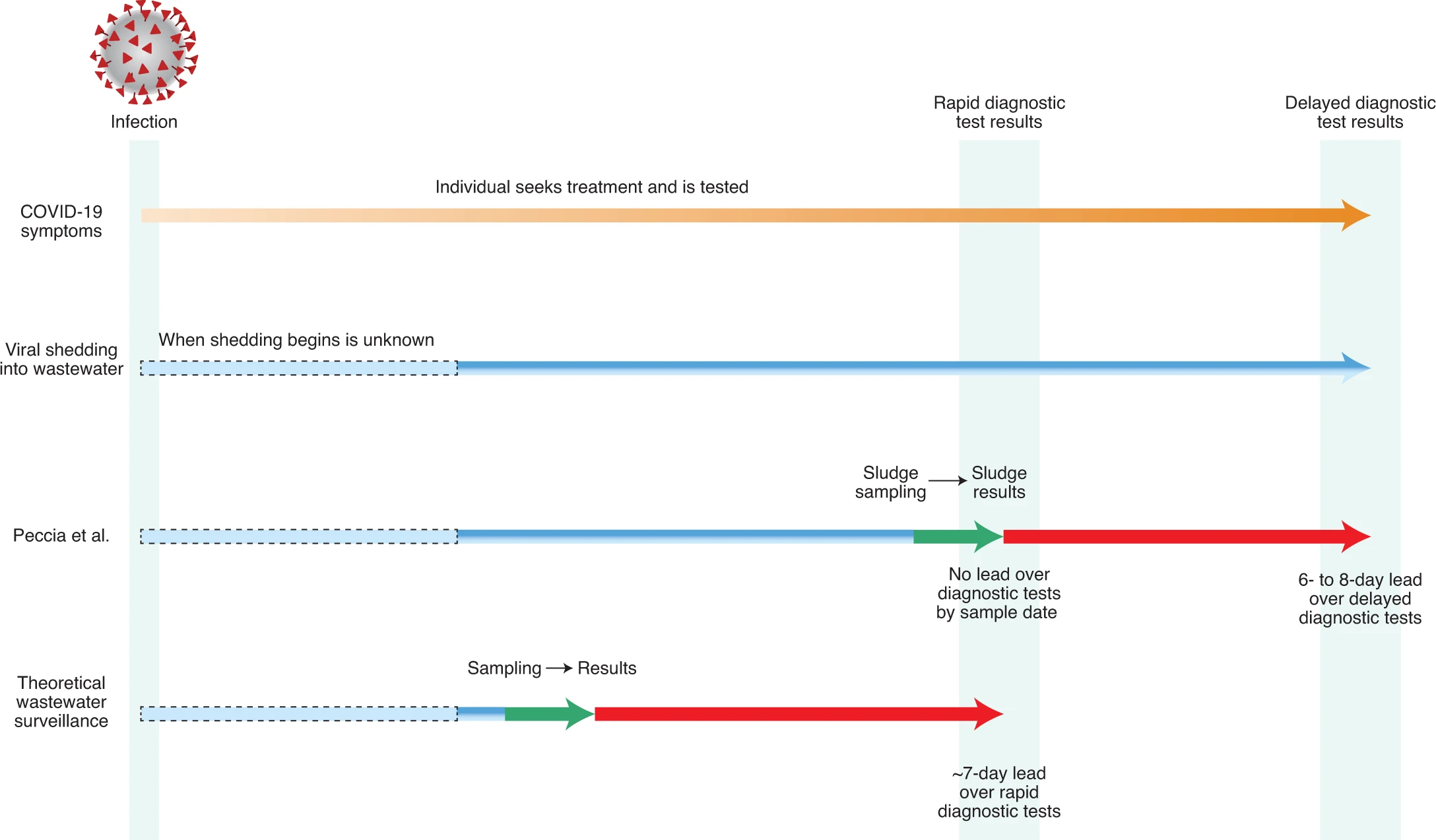 According to the Michigan Department of Health and Human Services (MDHHS), COVID-19 "can be detected in wastewater up to seven days before infections lead to increases in clinical cases." This early detection can "alert public health agencies of a potential surge in cases in a specific community and allow additional precautions to be put in place to prevent the spread of the virus."
Local-Level Data Collection
With the number of COVID-19 cases and deaths continuing to rise in the US, multiple states are starting to adapt wastewater surveillance measures.
In November, Michigan announced the creation of a COVID-19 Wastewater Surveillance Pilot Project, headed by both the MDHHS and the Department of Environment, Great Lakes, and Energy (EGLE). The pilot project is working with 29 local health departments, 19 laboratories, and at least 135 partner agencies/organizations to establish a "standardized network of wastewater monitoring systems across Michigan that will test wastewater for the presence of this virus." You can click here to view an interactive map of current locations undergoing wastewater surveillance in Michigan.
Michigan's Testing Process
According to the EGLE, Wastewater entering sewage pipes or wastewater treatment plants is sampled for COVID-19's viral ribonucleic acid (RNA) pieces. The wastewater comes from homes or buildings in the corresponding service areas and represents sewage from the total number of people in that area, not individual people.
Samples are then analyzed by a laboratory to determine the number of virus gene copies present, which are then compared to the wastewater flow that occurred on the sample day and the population that contributed to the flow.
Depending on the turnaround time of the laboratory, results can be available up to seven days prior to routine notification of clinical test results to public health agencies. As an example, Michigan State University recently conducted local monitoring of wastewater, which identified a spike in COVID-19 one week before clinical and public health identification of a COVID-19 outbreak in East Lansing related to a local restaurant.
As plumbers, your work is truly vital. By ensuring everyone has properly functioning and efficient waste drainage systems, you're contributing to effective wastewater surveillance and saving lives in your community! What are your thoughts on wastewater surveillance? Let us know on social media!