In this recent article written by Chris Oaty from Plumbing & Mechanical Magazine, he argues that the pandemic has been reshaping the way home owners view their bathrooms. Instead of being places to "get business done," they're evolving into "relaxation and well-being sanctuaries." Throughout the article (you can read our own "Reader's Digest" version below), Oaty argues that "linear drains promote well-being, cleanliness, sustainability, and accessibility in the modern bathroom."
—
The Bathroom as a "Sanctuary"

Inspired by luxurious "wet-room" spa baths in upscale hotels and health clubs, consumers of all ages now seek to enjoy the same look and feel at home to promote well-being. Part of that look is linear drains used in curbless showers, which are widespread thanks to the way they marry style and functionality.
A curbless shower means cleaner lines in the bathroom, less visual clutter, and added accessibility, all of which enhances well-being.
Superior performance in a curbless shower starts with a single directional slope with a linear drain spanning wall to wall at the bottom of the slope.
Eliminating the compound slope in the shower pan opens up new opportunities for design, allowing users to create an uninterrupted flow from bathroom to shower with beautiful large format tile and solid surface materials.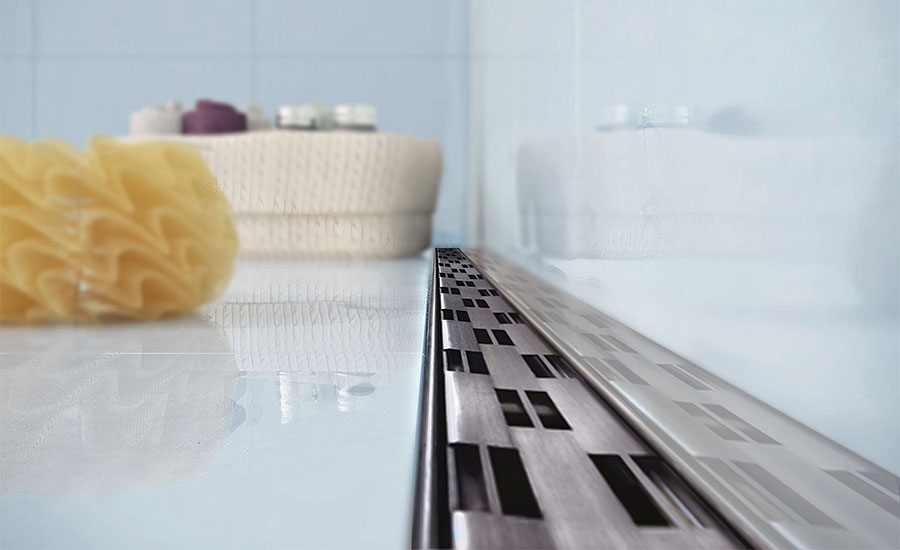 Cleanliness
COVID-19 has definitely heightened the importance of illness prevention and health optimization. A linear drain offers increased health benefits because it can be integrated with larger-format tiles. This reduces the number of grout joints and seams where mold, mildew and grime can take hold. The idea of a wall-to-wall linear drain, from a design perspective, not only maximizes drainage, but also offers a clean look that enhances the homeowner's shower experience.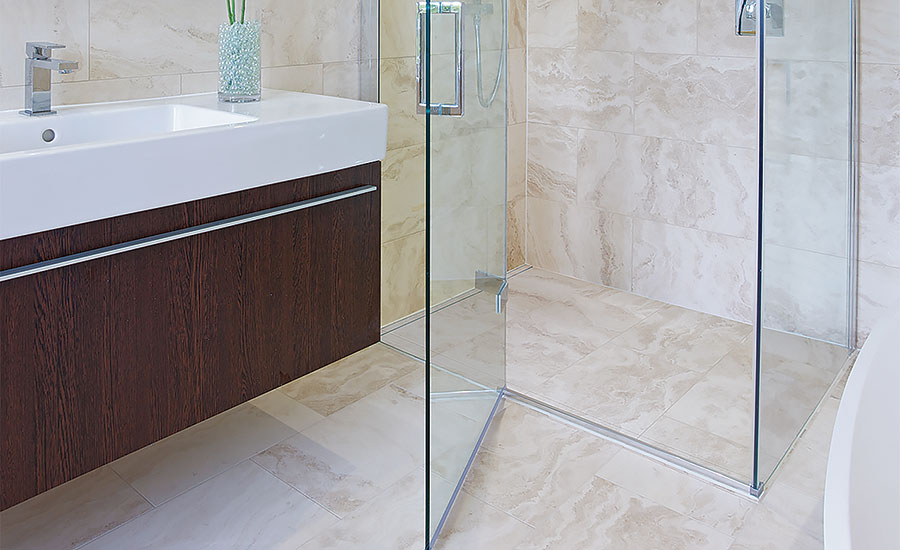 Multi-Generational Living 
According to Colin Milner, CEO of the International Council on Active Aging (ICAA), the senior living industry has embraced wellness to address shifting expectations and mindsets toward aging. Per USA Today, multigenerational households are on the rise as a result of the pandemic, as some families find themselves isolated due to travel restrictions. To accommodate different generations in the home, we're seeing an increasing demand for accessibility in the bathroom and shower.
Linear drains in curbless showers are an ideal design solution for creating ADA-compliant showers and universally accessible wet spaces. With no barrier to cross, the floor more easily accommodates a freestanding bench, a wheelchair, or other mobility aids.
An added benefit: Linear drains avoid the institutional look of so many ADA bathrooms, especially with upscale options that disappear into the wall.
As the pandemic keeps shifting consumer expectations, it will also continue to impact the future of home-design for years to come. One place to start is in the bathroom, where linear drains nicely align with the surging consumer trends of wellness, cleanliness, sustainability, and multi-generational living.
*An unedited version of this article was originally published in Plumbing & Mechanical Magazine – written by Chris Oatey.